zodiac Signs
The Best Swimsuit For Summer 2024, Based On Your Zodiac Sign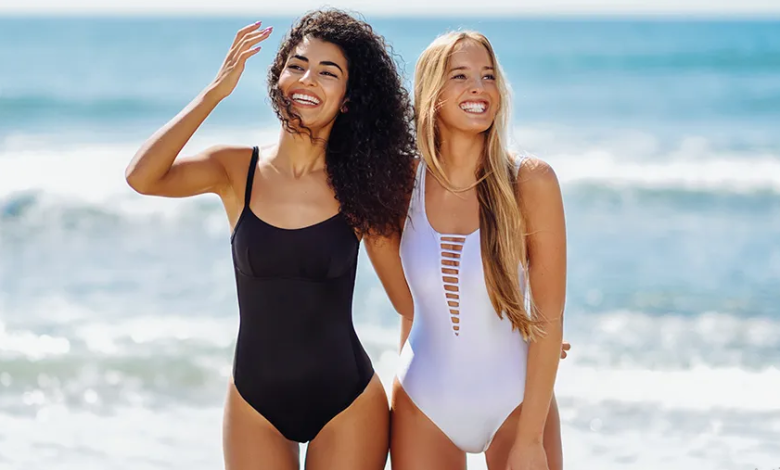 Summer 2024 is well underway—and if you're anything like us, the first place you're headed is the beach! If you haven't already, it may be time to invest in a new swimsuit. While the options are overwhelming (Underwire or ruffles? One piece or bikini?), there are many ways to find the perfect swimsuit. This month, we're taking a look at our star signs to find the best bathing suits across the internet.
Aquarius – Vibrant and Fun
We all know that Aquarians love to experiment with style—they're drawn to fun patterns and eye-catching colors. Their ideal swimsuit is just as unique as they are! If you're looking to make a splash this summer, we recommend Kaei & Shi's High Waisted Flounce Biniki set (available in XS-3XL) or SeaFancy's Ruffled Tankini Set (now in sizes XS-XXL).
Aries – Bright and Colorful
Energetic and bold, Aries gravitate towards colorful pieces and simple silhouettes. An Aries is always on the go, so a swimsuit that handles rough waves and lounging by the pool is a must. If you want to be the center of attention this summer, we love Cupshe's One Piece Bathingsuit (XS-XL) and ROMWE's High Waisted Bikini Set (available in L-4XL).
Cancer – Timeless and Chic
Cancer's style is both timeless and elegant – they're drawn to pieces that never go out of style. Classic silhouettes and muted colors are paramount for this star sign. Stick to one-color pieces with dramatic details, like Everlane's V-Neck One Piece (XXS-2XL) or Summersalt's gorgeous Sidestroke (in sizes 0-24).
Capricorn – Sophisticated and Feminine
Capricorns value function and style—they want clothes that look good and last throughout the warmer months. This summer, we recommend swimsuits with feminine silhouettes, like Summersalt's The Bow Shoulder Ruched Sidestroke (in sizes 2-22) or The Siena One-Piece Swimsuit from ModCloth (available in sizes XS-3XL).
Gemini – Soft and Modern
Geminis are the darlings of the fashion world—they love bright prints and bold colors. Swimsuits with daring necklines or out-of-this-world fabrics are sure to catch their eye. If you're looking for a one-of-a-kind silhouette, Lulu's Sun and Games Cut Out Top and Bottom  (available in XS-XL) will keep you cool all summer long. Need a bold pattern? This off-the-shoulder two-piece from VIMPUNEC comes in 22 different colors (XS-3XL).
Leo – Fun and Bright
Leos love to be the center of attention! This summer, opt for bright colors (like red, orange, or yellow) and daring cutouts. Cupshe's dramatic Crisscross One Piece is a certified show stealer (available in XS-2XL), while their ribbed Scoop Neck Bikini Set is a modern take on the classic red bathing suit.
Libra – Romantic and Elegant
Libras are the cottagecore darlings of the fashion world—they're drawn to vintage clothing with soft, romantic elements. This summer, take advantage of the ruffled tops and soft prints that are taking runways by storm. We love Cider's peach-themed one-piece (XS-4XL) and SPORLIK's Ruffled V Neck Bikini (available in XS-XL).
Pisces – Soft and Subtle
Pieces want it all—they need a cute swimsuit that's perfect for physical activities like swimming and surfing. This summer, opt for muted tones with modern silhouettes. Cupshe's Ribbed Colorblock Bikini Set (XS-XL) offers comfort and support, while UpWest's Swim Tee and High Rise Bottoms (XS-XL) are perfect for catching waves.
Sagittarius – Polished and Vintage
A Sagittarius' personal style is laid-back and polished; your ideal bathing suit is a vintage-inspired piece straight from the '60s. Channel your inner Marilyn Monroe with Retro Stage's Cherry One-Piece Swimsuit (in XS-3XL) or this Barbie-inspired vintage one-piece from Unique Vintage (available in XL-4XL).
Scorpio – Stylish and Tight
Scorpios are passionate trendsetters who value originality—they want a swimsuit no one else has! Aim for styles that flatter with modern twists, like Swimsuit for All's O-Ring Long Sleeve Bikini (available in sizes 10-24) or Albion's High Waisted Bikini (now in sizes XXS-3XL).
Taurus – Cute and Comfortable
Taurus values comfort over everything else, so it's no surprise that they gravitate towards simple swimsuits in breathable fabrics. Consider ESPRILA's one-piece cut-out swimsuit (in sizes XL-5XL) or Aleumdr's One Shoulder Bikini Set (in XS-XL).
Virgo – Casual and Soft
Virgos are low-key—when it comes to fashion, they don't want to be the center of attention! If you're looking for a nondescript swimsuit, we recommend something soft and casual in pastel colors. Cupshe's Scoop Wide Strap Bikini set (XS-XL) is perfect for the beach while their Cap Sleeve Bralette is perfect for some R&R.